It was a hot and...
... knackering 14 hour day for me but it has to be done now and again. Christopher now has 22 beams stored in his barn with sizes varying from 8' to 18' and max size about 14 x 14", see me for details.The benefit for me and therefore you, will hopefully be in a bit more stock available once it has dried. I'm still on the look out for decent straight trees.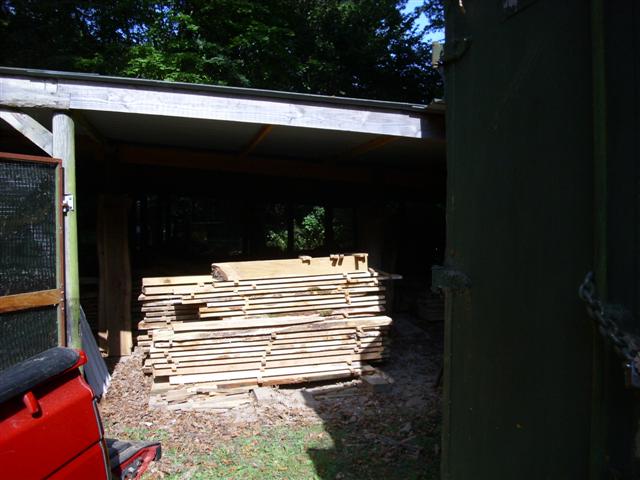 A sight for sawyered eyes... Oak - racked, stacked and drying!
Like last year and...
... of course all the years before Autumn faded into grey ol' winter. There's a great Monty Python sketch where a bloke keeps getting hit with a cricket ball in the face. The Punchline after the third hit is 'of course by now I was getting used to it '. Personally I don't get used to the light fading until after Christmas and it starts opening up again but you just have to get on with it.
Paul Killen the...
... amiable and sensible charging mobile agricultural repairing blokey came and sorted my PTO driven saw bench which helped me get a stack of firewood ready to sell. This is the first year I'm doing it and only in net bags until stock or my back gives up.
If you want a full load Erwin is your man but if you want 5 bags of about 10kgs of Ash, Oak and other bits and bobs delivered locally for £20 email me.
Come and see me over the dark months.. cheer my soul with Bank of England notes... Euros ok too with the current exchange rates. Special rates for nymphos with low standards.
Regards,

Paul GOULDEN.