A Tale of Two Sundays !
As well as the wood business ...
... which I dabble at twice a week by kind permission of her indoors I also have a full time job in London that pays real money and the bills. This tends to leave Sundays as family/social or if I get a pass from the boss extra wood days. I tend to like to bumble about doing tree planting and that sort of thing particularly when Col the wild man of the woods is camping, as he cooks me lunch!
I haven't been on a Sunday road ...
... trip for a couple of years partly because Rob or anyone else hadn't come up with enough of a tempter and partly because I wasn't sure if it's worth the effort in terms of wood/stock acquired. The Farleigh School and Bournemouth trips were interesting but ultimately timber delivered to the sawmill and professionally cut up fills the sheds quicker and easier.
Want some free ...
... Oak ? enquires Rob one Wednesday morning. He provided the catch before I could ask which was that we had to go to Southampton and mill it. But, he said it won't take long, we'll be done by 1pm. I'd heard that more than once before of course so mentally added a couple of hours but it still seemed like a deal - particularly as the weather forecast was for clear blue skies.
Naurally it was pouring with rain, as Rob struggled to get the badly felled (by someone else he assures me) tree into two mill- able lumps to be followed throughout by sleet, snow and a bit more rain.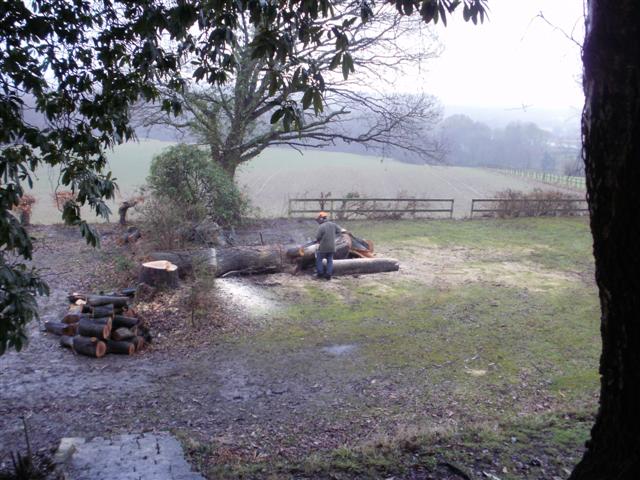 I hid under the trees in the downpour under the guise of taking a picture!
On previous road trips with Rob...
... as he had the only Alaskan Mill he did all the work whilst I took a few piccies and made encouraging noises whilst he f-ed and blinded at the effort and the strain on his hernia. Tragically for this trip I had my own mill and in theory 50% of the work. Happily, Rob was doing three planks to my one but I can exclusively report that it's a hell of a lot harder than it looks.
After three hours...
... I was knackered and we weren't half way through. The owner of the Oak, Nigel seemed a pleasant enough bloke but I suspect giving us free wood and putting up with the whine of chainsaws on his day of rest was charity enough as not a drop of tea, coffee or anything was slung our way and after draining my flask I was getting dehydrated.
You can see from the...
... picture below Rob is already further down his log. In my defence his top of the range Huskie 3120 is a good few CC more powerful than my 395 so takes less effort. A case of it is how big it is rather than what you do with it!
The saws need sharpening every other plank.. I need tea every third one- but didn't get it
Eventually we got to the end around 4pm...
... well I say the end but with 25 planks 1.25" planks lying in the mound of sawdust and some 2" the worst was yet to come. We had to shift the lot to the waiting truck and trailer up 26 steep and slippery stones steps! By the end of that bit of fun even Rob was flagging, hardly having the energy to moan or slag anyone off.
By the time it was roped...
... and the equipment cleaned to Rob's satisfaction and stashed, it was nearly dark. I expect he wished he had sorted out the lighting pin on his van as he had to tow the trailer back up the motorway without lights. I was supposed to follow close behind to cover this but years of giving a decent gap to vehicles is a hard habit to break.
However,we made it back to Stoke and I then had another 65 mile drive up the motorway to a overcooked Sunday dinner and an under joyed wife.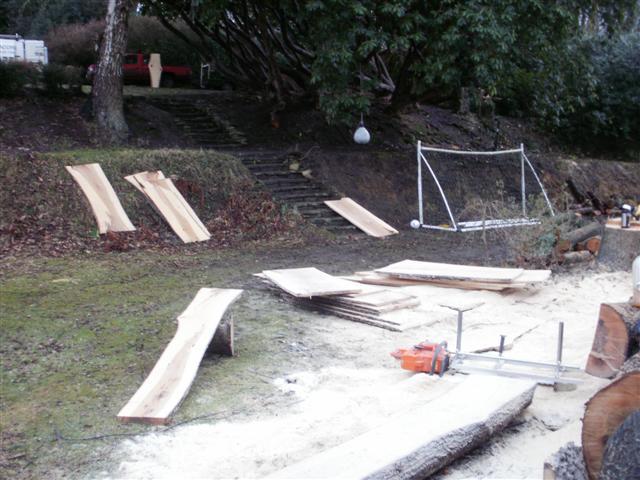 Having sweated all day we weren't going to leave anything but those steps weren't fun!
The end result was about...
... 10 cubic foot each of timber. Time will tell if it was worth it. Shortly before this trip I had an email from a chap called Julian who was about to fell a Walnut tree and was looking at what to do with it. It was far far away in another country.. place called Wales, you may have heard of it but the good news was that Julian was English, so obviously he was civilised and language was not a barrier.
My own bit of good news...
... of a pucker new two tonne trailer was about to arrive so we agreed that if the tree looked ok when down, I'd head his way. We kept it touch and it hit the deck on schedule and not too hard. Julian would probably have logged it and as Walnut doesn't burn that well apart from the sacrilege of doing so, we agreed I'd bring some decent logs and find the Walnut a good home.
So two weeks after...
... the miserable wet Sunday I set off again at the crack of dawn (there's a joke there, but I'll pass) this time in -4 C but with hope of a sunny day. Sunny it was, chilly but beautiful and if there is a finer way to christen your shiney trailer than a jaunt down the M4 in search of Walnut bring it on.
I whittled away the 140 miles in no time at all and with the aid of my Tom Tom was outside Julian and Vicki 's lovely old house before I could ask myself " Are we nearly there yet".
Coffee was provided without...
... having to make gasping noises and I was instantly made to feel at home. Shame really it was so far away as I'd have liked to stay all day. Unlike Nigel, Julian was not only willing but very able to assist cutting the tree to manageable sizes and deflower my virgin trailer with his Walnut.
Sunshine and someone else doing all the work- what more could you ask for ?
I thought it was going to be a bit...
... of a struggle dragging the timber to the trailer as we weren't able to get it right alongside. Julian must have been practising on the sheep or has had a summer job pulling ploughs as he had the three heavy bits up to and on the trailer before Rob would have said 'me hernias rough today', you crack on.
In total contrast to the previous...
... outing it was towed, lashed and ready for the return journey in no time at all. Lunch and further refreshments were offered but apart from a cup of char for the journey I was grand as they say in Ireland.
Julian and Vicki have a couple of other Walnut trees and he has mate with a Woodmizer so who knows despite the distance a return in the future is a possibility.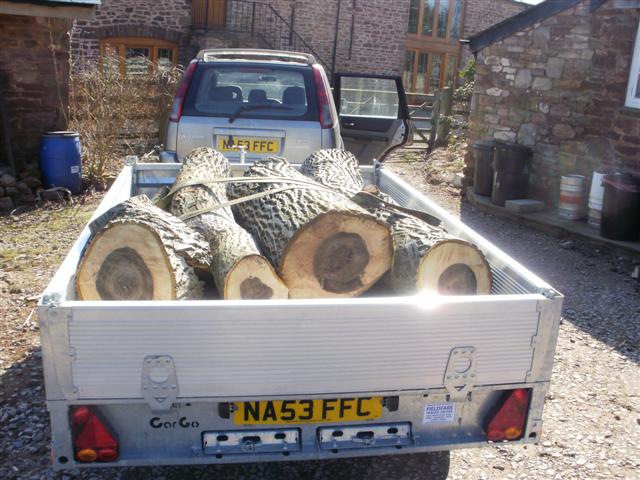 Ok, admit it you want one. It's great ... tows like a dream, no rattles and excellent brakes.
Funny how they charge you to...
... go into Wales but let the natives into England for free. My late father always said that the trouble with the M4 is that there where too many Welshmen on it. Personally I wouldn't be so racist but talking of the old bugger I hope that I die quietly in my sleep like him - not screaming and in pain like his passengers!
However, heading back was just as easy as getting to Monmouth and by mid afternoon the Walnut was back at the wood and with the aid of the ally ramps I was able to roll them off the trailer on my own to await the saw.
So ended a perfect...
... day in stark contrast to the Sunday before. I've turned down several interesting trees in the past on the grounds that they were more than a stone's throw from my corner of Hampshire.... But now as they say ' I have wheels and am willing to travel. '
regards,
Paul.