Spring into Summer 2011
It's been an excellent...
... period where I have got hold of some of the best stock ever, improved my equipment and developed two relationships with other traders that have the potential to turn Goulden Hardwoods into a proper wood place !
The year started slowly...
... which rather suited me as the rain and cold put me and Dave off from doing too much. The old saw in the woods needed coaxing into action. As we knelt in the mud struggling to adjust it to cut straight I told Dave " I'm going to buy you a new one when I'm rich and famous." " Oh good" he replies " Will it have a seat ... and a heater!"
Gradually we got a head of steam up and the customers left their fires and came for timber. Rob formerly of Acorn Milling came up with an Apple that looked promising but is really just for smoking wood. Rob blows hot and cold sometimes he's very helpful and generous giving you bits for nowt and other times he's er not and will charge for a cup of tea.. plus VAT of course!
Rob was in good mode...
... happy to swap the Apple for an Oak plank for his Barbie. Whatever his mood, his operating of machinery like diggers is always first class and he popped the Apple on the trailer precisely and gently - something Mark at the sawmill fails to do at times- particularly when he's hung over!
I did take a picture of this operation but being a knob pressed the movie bit on my phone by mistake so you'll have to make do with a pic of Tom's rather lovely high speed trailer that had just arrived.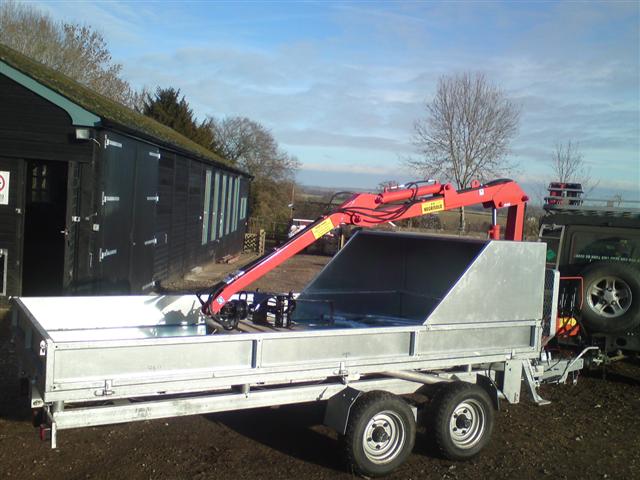 As you can see a handy hydraulic grab, moveable wheel axle and the bed lifts off too !
The Smoking Woods...
... side of the business had a boost and a relaunch with the new website BBQ Smoking Woods designed by an enthusiastic BBQ er Steve whose Royal Q Pit Crew Team are pretty successful in the increasingly competitive world of competition cooking which is big in the USA and is becoming so here.
The logo rather shockingly...
... has my ugly mug on it - trust me on this one he says. Of course, I only get to count the sales not the people who see it and then lose their appetites! Time will tell whether he is a marketing and website genius or perhaps not. It's not looking too hot yet Steve, but early days!
I had a perfect day with...
... the other Rob. Rob Dyer apart from being a good egg is a tree surgeon, maker of fantastic furniture and retailer of Alaskan mills and all those useful things for saws: bars, chains and devices to make keeping them razor sharp easy even for dunces like me.
I picked him up from a tube station near where I live as he had been giving his lady love in London. This is much healthier than shagging sheep in Scotland which we had both promised the magistrates we would stop doing.
Off to Sunny Slough...
... to collect a rather promising bit of Walnut we trotted. This one found me, the owner was a joy to deal with and had a JCB to load it on the trailer - even bigger joy. It was 10 minutes off the motorway with no muddy tracks or nasty inaccessible back gardens that most decent trees are found in... that's usually why they are still there when I get to them.
I had a slight arse twitching moment that my caliphers would slip and the log ruin his lovely fence !
We were soon heading...
... West to offload the Walnut at the woods and then on to Rob's place in the New Forest. He gave me a lesson in proper use of the Alaskan Mill - much needed and we nailed down a deal for the trade volume sales of the smoking wood.
I'm going to do a separate blog on Rob's many skills but if you happen to be in Brockenhurst in the New Forest for whatever reason don't miss a look at Rob's furniture and other creations which are being used and are for sale in a delighful tea shop in the High Street.
For his next trick...
... Alaskan Rob came up with some Yew. I cut in my mate Andy who has been influential in broadening my horizons timber wise and was letting me buy into a load of quality Oak. It was a pretty shrewd move by both of us roping additional help in as the site was a challenge. This means blooming hard work getting the timber to roadside trailers and away.
The Yew though plentiful was also typical in that a lot of it was what we wood experts call shite. No shortage of holes, cracks and nasty bits. The site was as hard as we feared being on a steep slope and everything had to be carried to the waiting trailers.
Andy brought his mate Andy...
... which was of course double h' andy. By the time we were loaded we were all cream crackered. I suspect that Rob and the two Andys did a lot more than me milling, dragging and loading but we split the haul equally. Fortunately Rob wants the wilder bits for his tables and wall art and Andy small sections for his Guitar sets.
I doubt whether you ungrateful baskets appreciate the sweat and a little blood that goes into finding you this rare wood, but cough the cash and I'll forgive you.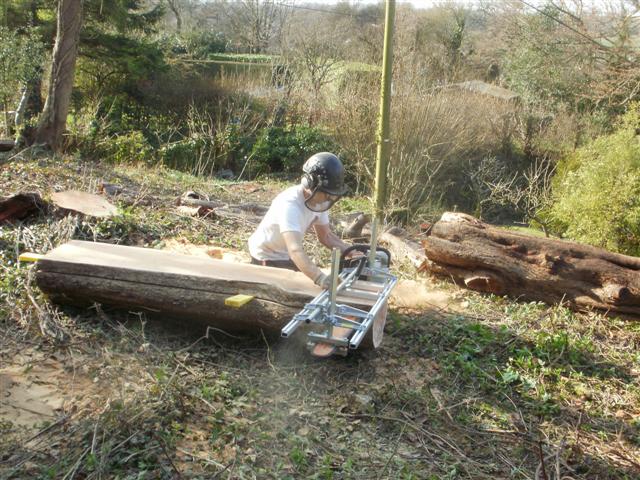 The 2.5 inch slabs were quite heavy and it was a long steep trip to the road!
Talking of rare and lovely timber...
... which we sort of were, Andy has lots so if that's what you like he's your man. Native timbers wise he goes for best quality Walnut, Olive Ash and anything that stands out. He does import too, holding a few thousand quids worth of exotics. Guitar sets are a speciality - I'll put you in touch with him.
Recently stacked at the wood pictured below but belonging to Andy is some amazing Elm that Andy bought from Scotland where it is still plentiful, I believe it was the Queen Mother's... but she doesn't need it any more. It was another sweat close on the heels of Rob Dyer's Yew getting it into the wood and beautifully stacked by the Andys.
I spent the day...
... running around like the proverbial blue arsed fly as I had the Tom the Forest and his team doing their most excellent thing coppicing in the wood and had promised to help him. I lost a few pounds jogging from one end of the wood to another assisting both teams but the jobs got done.
Visitors to the wood can look but not touch or buy for now. Andy will move it in a few months to Kiln dry and then he's open to offers.
Lovely though this is there is an even lovelier burr log but you must talk to Andy about that !
My new tractor...
... well new to me (it's 25 years old) arrived the same day as The Elm. The plan was to use it to stack the wood but my lack of skill and the fact that the hydraulics on the loader were the opposite to my old one where you pushed forward for up etc made it easier to move it by hand.
We also found getting it from the lorry drop off at nearby Box Farm difficult and as we have twice as much top quality Oak arriving soon we need a trip to the drawing board for another look! To round off what had been a long and stressy day I found the new tractor was 4" too high for the tractor shed.
Gordon and his digger...
... were the answer to my shed problems and it was great to see the old maestro back in the woods. He was able to point out a few features on my tractor I had been too busy to take in when it arrived. With the aid of the tractor's bucket we had excavated enough to allow access in and out and there was time to put the digger to some other jobs.
He's as good as ever in a machine and just as difficult to under pay !
With the Elm successfully...
... stacked Andy was on to the next deal - nearly 500 cubic feet of grade 1 Oak. I'm going halves on it money wise but Andy is doing all the organising including getting it to a state of the art sawmill in another county.
This quantity of timber is too much for my little sheds and frankly Andy isn't too impressed with my hotchpotch bearers and random stickers and has brought in a load of what I can reveal to be sodding heavy railway sleepers and more stickers that I have ever seen... this lot is going to be dried proper Mrs!
In the past when getting timber...
... 50% of the time has been spent waiting for Mark to a) arrive b) drink enough coffee to get a head of steam up and c) stop for a fag and or phone call followed by more coffee. Then add to this the actual cutting time and then getting it back to the wood.
By then the day has gone and has allowed very little time for me to off load it and stack it badly usually on my own.
As Andy has his geezers, the aforementioned Andy the second and the multi talented Dave he is able to take one off the current building job and bring them over. They spent 6 hours stacking for the Elm and a day's preparation for the Oak base pictured below: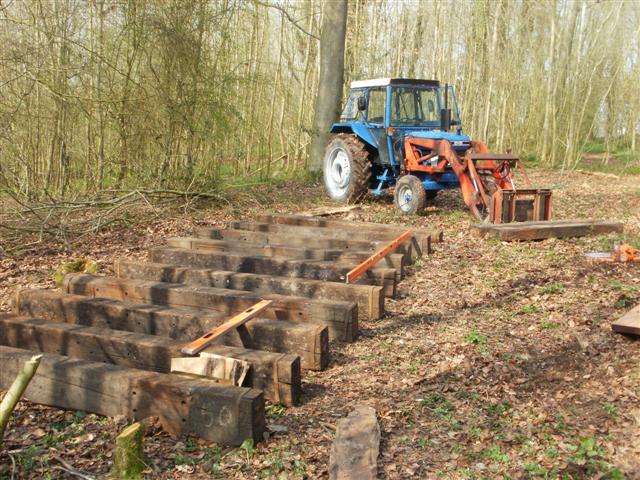 Base one of two for 16 tons of Oak ... see next newsletter for progress report.
Coming up next time...
... probably early Autumn apart from this will be news of a promising looking Walnut on the south coast. Hopefully we will have found time for more charcoal making (come and help if you want) and completed phase one of the woodland rides opening.
There's plenty for you to see, especially horse flies so put the spray on and come over. I may be persuaded to let the dry Oak go cheaply to make a bit of room... or I may not !
Visitors are very welcome, especially rich ones not too careful with their cash though I fear this is an oxymoron!
Regards,

Paul GOULDEN