I've been on the lookout ...
... for some decent London Plane ever since I bought a cracking bit off Erwin's dad 10 years ago now. There isn't much of it about in Hampshire. It may suprise you to know that there is in London which of course is where it gets it's common name.
As I work there with the real job I have always wondered who felled the big buggers in the royal parks like Hyde and Green Park. I need wonder no more as now I know, though it took a long standing customer Rob from Hebden Bridge in Yorkshire to tell me !
Speak to Keith ...
... I reckon it will be worth your while emailed Rob. I did, it was- though like everything there are logistical difficulties. As you know I'm prepared to go to any amount of difficulty to bring you the best timber ... I emailed Andy and asked him to go have a lookee !
Actually we both had a look and before Christmas there was nothing to excite you but I am on the case and you will be the first to know when I get my hands on some lacewood.
Guitar Rob above is a ...
... customer going back years and a proper craftsman. Good bloke though he is I was surprised to find £300 transferred to my account without sending him any wood !- particularly as his usual spend is under £100.
I ' fessed up without being asked and he assured me it was a misdirection of funds to his saving account rather than a payment to another timber merchant... I believe him, the slut.
In the meantime with ...
... the mostly excellent Autumn and early Winter weather I spent my Sundays doing a bit of Ash thinning and collecting logs. Making a living selling logs requires expensive equipment and a bigger heart for hard work than I have.
I dabble, doing a bucket load at a time more for the exercise- it beats beating the wife and the Walnut tree... I haven't got a Whippet. If this makes no sense you need to read more old country sayings.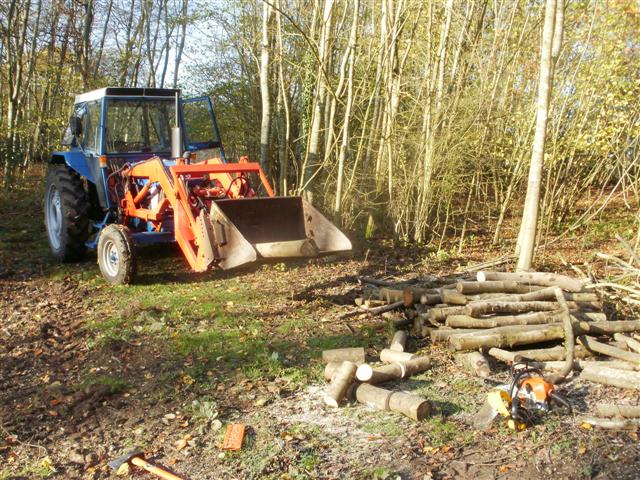 Sunshine, sawing and a bit of sweat beats the winter blues!