The Walnut Tree ...
... mentioned above was owned by a thoroughly sensible chap called Ian and was in the garden of a house he rented out in Basingstoke. He emailed a picture before Christmas but it was heavily clad in Ivy so I replied I might be interested but had seen a few women who looked good dressed up but were disappointing when stripped!
He duly let me know it was down and I went for a look more in hope than expectation. Had it been a woman, it was a Supermodel (but happily not as skinny) 12 foot around the base and has been around longer than Basingstoke, let alone the newish estate that had popped up around the tree.
I've got a massive one ...
... and I can't handle it, I told Rob in the New Forest - not for the first time either. Fortunately he can and I got him before he disappeared to France for 6 weeks as he is inclined to do when not in the West Indies - there's money in furniture making !
I made two schoolboy errors ...
... on the day we went to mill the Walnut. The first was telling Rob not to break his neck and let the traffic go and meet 10 ish - this in Rob speak is start thinking about leaving yard in The New Forest about then so consequently didn't arrive until 1130.
Handily, this gave me time to sort error number 2 where on the first hot day of the year I forgot I was now a baldy and needed a hat and sun screen!
Tackling a big old beast like ...
... this requires a lot of expensive kit and skill so frankly whatever time he rolls up is good enough. The biggest Alaskan mill and Chainsaw on the market is needed but handily he sells them. More difficult is the dreaded metal usually old nails from 50 + years ago but also other annoying metal as well.
With his metal detector we located the nasty nails and mostly avoided them but not before crunching a few teeth on the saw which always makes a nasty noise following by more nasty noise in swear words. I'm not sure you readers know how we suffer to bring you the best Walnut- and make us a load of money naturally!
I say loads of money ...
... quality wood flies out and gives a good return. Sometimes what looks good when green is disappointing when seasoned. The Walnut Rob milled near me about a year ago looked promising but when I moved it recently, the shakes and nasty bits were worse than I remembered.
I said to Rob " That Longparish Walnut was a bit crap really ". "I know", the git said "I could have told you that at the time" - still at least I had a year of thinking I was sitting on a winner!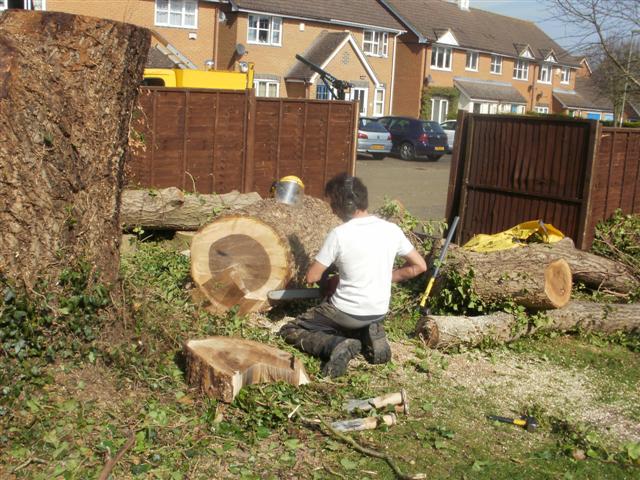 Rob is nibbling round a nail, you can see the tell tale bit of blue at 10 o'clock on the heartwood.