Gordon " Digger " Barnes ...
... is not just the go to man for a digger or three but also for general advice, tree felling and shed construction - his current specialist subject. Readers from the very early newsletters will know that Gordon did all the footings and drains for the old man's Quarry House in 1978 when Gordy was young - ish! His knowledge of the Quarry House drains 34 years later is still spot on, very handy it was!
The story goes the old boy overpaid him for the first job and under paid for every subsequent one. I have mentioned this off and on and have regularly tried to under pay him. Eventually he felt the need to point out that unlike my Dad I never actually overpaid him for the first job, let alone any of the others!
I needed a digger for ...
... a bit of work on the side of The Kiln and Gordy delegated the job to his younger son Phillip, who I had seen in action doing the woods track last summer. I was thinking that I shan't be using that miserable old sod of his father again that's for sure (Well apart from tea and wisdom) as Phillip is much better but next job they both came & actually it was great as the mixture of youth and experience made a difficult looking job a doddle.
I paid Phillip £10 more ...
... than he asked when he came on his own, so you know what will be coming in the future ... a bit less. I didn't manage to put this into practice later in the summer when I needed both of them to complete the drainage job and do a bit of concreting as Gordy put his hand out quicker for the cash- his reflexes are still sharp with Bank of England notes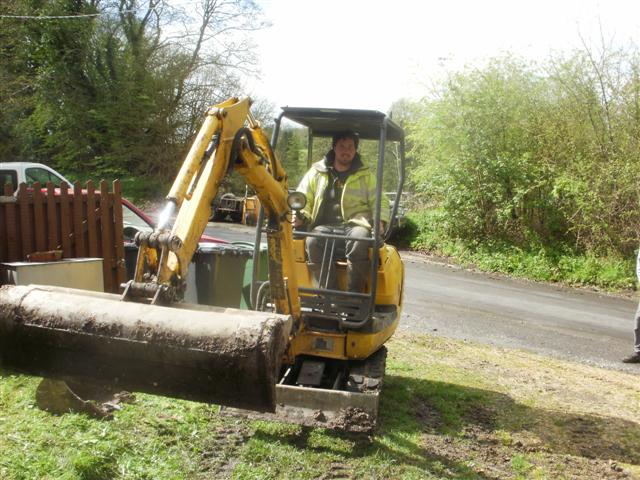 A new improved model of Barnes - hopefully this one will be cheaper to run !
After the digging ...
... I sorted out the knackered Kiln roof that I did a temporary fix on 12 years ago. This is all part of a drive to keep it tidier and have a bit of decent timber and blanks there for callers who don't have the time for a trip to the woods and also for particularly short, wet winter days.
Inside is much the same but a bit better organised for blanks and bits downstairs and my smoking woods upstairs. Sales of the latter are over double last year and it is starting to look interesting. I took a typical order for a box of Oak, Apple and Cherry not far from where I live and promised to deliver later that week.
Shall I pay before you deliver ? ...
... asked James the customer. Nope, no need wood users are an honest bunch I replied. I then rather foolishly added " Course, if you don't pay I'll come round and rip your heart out".
He went a bit cold on me after that and I would just like to say I rarely resort to this! Having said that Steven Dobson from Leeds is due for a visit and he knows why.