I now have more ...
... timber than ever to cut so I'd better get on with it instead of talking about it. The wood sheds are looking reasonably well stocked despite people annoyingly buying it, so come on over.
On my to do list is a charcoal burn or two but I really need to spend some money and time on sorting out the lid. I'm flirting with the idea of a 'how to' course for the BBQ fraternity.
The problem is that it's a three day gig really: firing it up, keeping the burn even and then bagging up 24 hours after it's cooled, so it would take a bit of organising.
Delivering some Smoking Wood ...
... turned into bit of a pain in the arse and even worse my wallet. Following excellent directions I got straight to the address and drove up the steep drive as I had been instructed ' it's fine to drive in'.
It was fine... going in! Turning round on a nasty slope was as tight as a gnome's foreskin and a sneakily placed 2 foot wall resulted in my snapping off the plastic valence on my X Trail. Money in £35, out a bit more x 3 !!- some you win ...
Next time I hope to ...
... be able to report a delve into the beast with 10 eyes below. I've got to put a bit of work into scraping all the crap and stones out of the gaps but I can report a lovely deep purple colour and a little burr ... it's got potential!
The woods are drying out rapidly so get over and buy that excellent bit of wood before someone else does!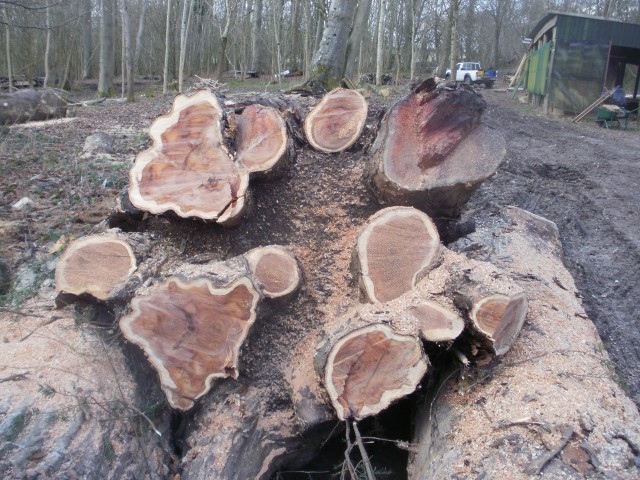 Not sure how we are going to tackle this ... carefully I suspect!
Regards,

Paul GOULDEN