Autumn Edition 2013
Why is finding top timber ...
... and getting it cut and stacked at least ten times more difficult than selling it? This is naturally a rhetorical question unlike the one that has troubled many for years and to which I have the answer!
The question is: Why did the pervert cross the road? The answer is of course because he was still stuck in the chicken.
This time I shall be ...
... sharing the pain and financial heartbreak suffered by me and my intrepid helpers filling the wood sheds only for you to casually turn up and buy it. I began the summer quest in response to a request for 'help for timber' from New Forest Rob - he certainly needed it.
Unlike the wife ...
... who claims otherwise I've seen some big ones in my time but the Cedar of Lebanon Rob was chewing away at was certainly the biggest I've ever seen. He'd already worn his mate out over two days when I arrived on a sunny May day.
The last time I helped him you will recall if you are a loyal reader/someone with too much free time to read was in Basingstoke before Christmas when I froze just about everything. Apart from the fact the Cedar is lighter than Oak and smells great, it was a much more enjoyable day.
Note to self - Mill in May & say No in November!
... for a You Tube Video of Rob chewing away at it and me giving my legs and baldy head first airing in 2013!
The monster with a bit trimmed off already - The tree I mean, not Rob who was 6 foot 6 before he started!
I've got a new job ...
... as a female sexual advisor. Not sure what the wages are but apparently if they want my fucking advice, they will ask for it!
I like to see pictures ...
... of the many and various things created from my timber by customers. The one pictured below was especially pleasing as it wasn't great bit of Walnut having a bit too much sapwood and not quite as big as Jon the craftsman would have liked.
The end result is you will agree spot on thanks to his skill and aided by a tannic acid wash and having fumed it with ammonia for 45 hours - had I known how well it was going to end up I'd have charged a bit more!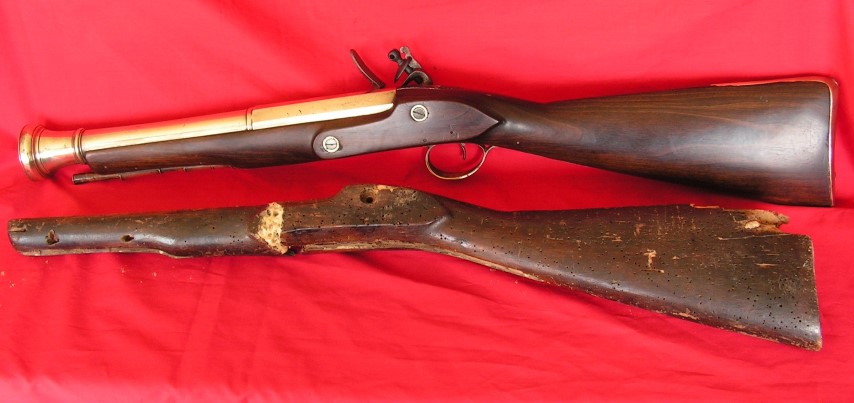 The old one can be fairly described as past it's best!
An old man ...
... lay dying in his bed. His devoted wife of 58 years was downstairs baking. The aroma of his favourite cakes waft up the stairs and he knows he must taste them one last time.
With enormous effort he slowly hauls himself out of bed and inch by inch makes his way to the stairs. He staggers step by trembling step down to the kitchen.
Seeing them invitingly ...
... cooling on the side he puts out a shakey, wrinkley old hand and grasps one. Get your hands off that the wife orders slapping his hand away, they are for the funeral !
This was the same old boy who went to the doctors a few months before with his wife. We need to do some tests said the doc.. I need a sample of your Urine, Semen and Faecies.
Waattt did he say ? ...
... the deaf old coot asks his wife. He said he wants a pair of your dirty pants, she grimly replied.
Rob returned the favour ...
... by coming over and milling my own monster - the 10 eyed Yew beast but obviously not before his third foreign holiday of the year! He does try to justify it but he's fooling no one ... he works to live unlike me who lives to find prepare and sell wood to you at such a low price that I am thinking of registering as a charity.
Of course, before getting himself over to me he talked me into another day working on the Oak pictured below. I actually enjoy these days but don't tell him as he is generous with payment in wood and I learn a lot.
I learned how to make £250 ...
... very quickly as he put together a rustic picnic table for my mate Tom with the recently milled Oak. There is of course another You Tube video somewhere as well as a few other instructional ones under the Alaskan Mill banner.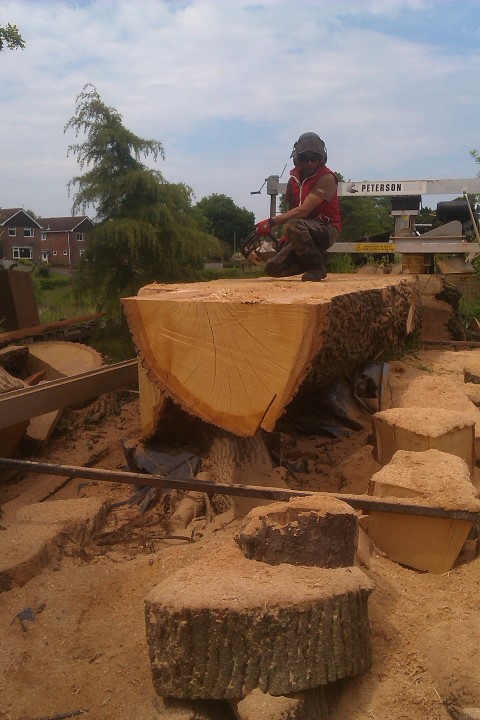 After the Cedar Tree above this Oak seemed very manageable size wise !
I said Goodbye to Simon ...
... who had been coming to help most weeks since retiring from the RAF (with a much bigger pension than me, the git) but was moving to Bedford. Having been much further afield than my trips to Yorkshire on the Miner's strike he had some top notch stories and a good time along the way.
I clearly chose the wrong service unless you count having some stinky old tart covered in metal bits taking a piss on my shoes at a Poll Tax march an enjoyable experience. Simon had also picked up lots of useful things like where to chain something to make it do what you want.
As a leaving gift ...
... he had a bit of Ash and Walnut and gave me an excellent Chess piece light pull made from a bit of Cherry. This 5" Bishop now hangs in my downstairs shower room ... I shall think of Simon when I have a dump- rather than thrash the Bishop!
Come and help ...
... if you have time, a decent back and like wood. Pay is nil but there are perks wood wise and a laugh to be had.
The Yew Beast was as expected ...
... a bastard to mill. Naturally it had to pee with rain whilst we struggled with it. Fortunately Rob's Alaskan Milling gets better each year as he picks up and invents tips and tricks.
The latest addition is a winch and pulley screwed to the frame which works a treat. More on that next time perhaps, as it deserves a bit of detailed coverage.
The problem with Yew is that there is often all sorts of things like stones which get stuck in the body as it grows and are guaranteed to blunt the saw. We hit a bit of metal bottom left of the picture to add to ' the fun ' but I was very surprised to see what is pictured centre below ...
As Rolf Harris used to say before the disturbing allegations from Op Yewtree - can you tell what it is yet?

It is of course a golf ball - how many years since a dodgy slice deposited there is anyone's guess!
Meanwhile getting to grips with ...
... the new bandsaw continued. There are many features which are an improvement on the old Lumbermate but we were getting frustrated by the guide bearings getting coated in wet sawdust and seizing up.
Matt, the very helpful but soon to be departing Timber King rep provided replacements without any quibble but it was a short term solution.
Dave came up a fix ...
... that was so simple and effective that I wonder why the manufacturer who have ' Making Sawmills Since 1929 ' on their titles haven't sorted this given that it took Dave a couple of months and they have had years!
A small wooden brush with brass wire used for suede cleaning and costing £3 was positioned along the sawing line and instantly the problem was fixed.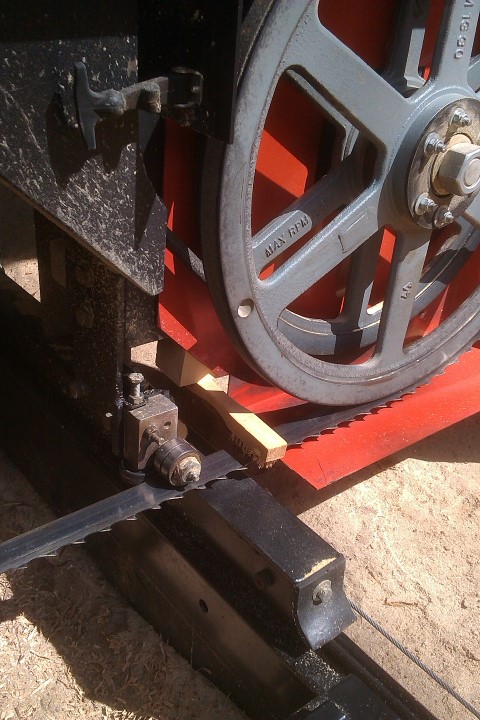 Basil the Brush is keeping the blade as shiney as a shiney thing Mr Derek ... boom boom
Summer arrived with a vengance ...
... which was a shock after the last two wet ones- it's less cold but the flies are a sod and frozen toes are replaced by betty swollocks caused by over heated bits in chainsaw trousers. There seems to be only a very few weeks out of the 52 when it isn't too cold or hot ... not sure which I prefer.
With the hot weather came a massive increase in my Smoking Wood sales to the extent I was struggling to keep up with the demand. It takes me over half an hour to make up a box of the best seller a mix of Oak Cherry and Apple & no sooner had I got a few boxes stacked off they went.
I'd like a box but ...
... can you get it to me by the weekend was a frequent email on Wednesdays and Thursdays through July. I resisted (mostly) saying why didn't you order it a few days ago you useless bastard.
Instead, I got up at 6 to get down to the workshop in time to wrap the box for the courier because they were all decent friendly people and money is money, innit.
My best purchase this Summer ...
... was def. the Alaskan Mini Mill from Rob, of course. It's big brother cuts the horizontal flat edge shown in the picture below but this enables us to get a second vertical cut that is ideal for setting the log on the saw bench giving a mostly quartersawn plank.
It takes a bit of getting used to, not my strongest asset but it is a simple but effective bit of kit. I plan to get a bigger saw and mill in the Autumn and with both of these can manage logs up to 36" diameter - as big as I want to be playing with as the tractor and saw can't handle anything bigger.
Debonair Dave watches on from a safe distance ... he knows I'm dodgy with machinery!
So an excellent Summer ...
... weather, sales and pretty much every else passed by - another 15 - 20 of those and I'll be happy! On the grounds that it could be mine or your last get over and buy some wood soon !
Next time, after Christmas I expect I shall hopefully have discovered and processed more timber, discovered some new sick jokes and got enough material to entertain you.
Regards,

Paul GOULDEN