The latest Walnut Tree ...
... was a good example of partnership working. It came to me through Geoff Tyler the boss of the local wood equivalent of Harrods compared to my discount shop. They have pretty much everything but are a lot exy-er than me.
The owner of the tree was obviously ringing around the bigger wood firms before finding out that there are very few people who will come and get a single tree. I agreed a price for the main trunk and called in my mate Andy of Prime Timber to share it as New Forest Rob was as usual sunning himself in Barbados.
I could have been greedy ...
... and kept it all for myself, but getting Andy on board something I couldn't do last year as he was too busy, has three benefits.
Firstly, I get his oppo Dave who is strong as an Ox - he looks like one too & is a whiz at winching and strapping. Secondly, I get a his expert opinion on whether the Walnut is any good and thirdly if the colour and figure floats his boat a bit of wheeler dealing with his other stock.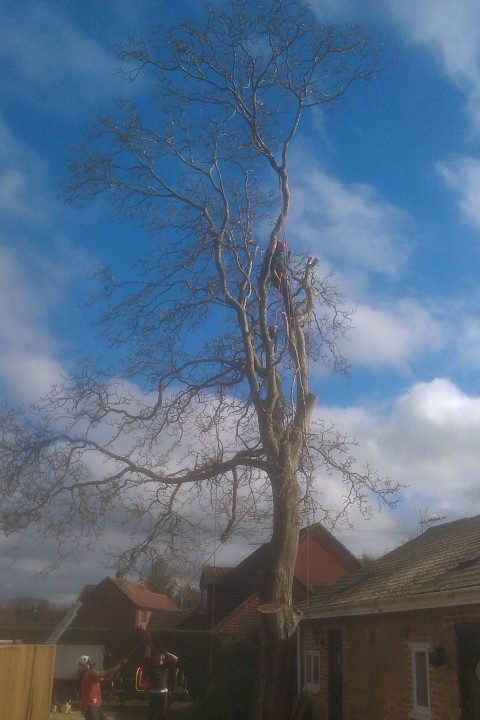 Always impressive these geezers up a tree ... get on with it so we can have the trunk!
The owner of the tree Bryon ...
... wanted it removed on the day it was felled. This is ok in theory but inevitably meant several hours waiting around. This was made easier as Chris West of West Woodturney lived nearby and his wife, the lovely Kath provided lunch.
The second stem was ok ish and we discussed with the tree surgeon the length we wanted. When Bryon got wind of this he pulled me to one side and said he had someone who was desperate for it and had offered £100.
Take the money ! ...
... I exclaimed you are obviously a super salesman I wouldn't pay that for it. He looked a bit uncomfortable before withdrawing for a while.
Later, he said he'd much rather sell it to me and what would I pay for it? I reiterated that his bit of business with the other mystery buyer was very much in his favour and he should take it.
The deal must have fallen through as it got ringed up ... bit of a waste but there you go.