Middle bit of 2017
The annual shift from Winter ...
... into Summer is always welcome with the sap in us old buggers rising with the trees and a brief burst of energy. Naturally, it doesn't last long but it's fun while it lasts - as many women have told me.
On the list of things to do was to get the woods khazi operational, sort out the condemned tree house and get a bit more interesting timber to satisfy the baskets that keep buying it.
Before all that I must tell you ...
... about an old boy I know who saw a large frog in the road and being a decent sort picked it up to put it out of harms way.
As he did so the frog said. Thank you and for your kindness I can reveal that I am in fact a beautiful princess who has been enchanted.
If you kiss me not only will I become ...
... the aforementioned beautiful princess but unlike the fairy tales I'm also a filthy dirtbag and I'll give you the time of your life in bed ... on the table ... in bath or wherever and whenever !
The old chap started to put the frog in his pocket. The frog croaked Oi didn't you hear me, kiss me and I'll transform into the woman of your dreams.
I heard you treacle but at my age I'd rather have a talking frog!
During my usual search for ...
... timber that not only appeals to me but that I know my regulars will bite my hands off for I spotted a couple of Ash logs that had a bit of burr and some olive centres.
In this particular yard most of the Ash gets chopped up for logs. Ian my contact there who has looked after me very well in recent years eventually gave in to my pleading not to chop it up and I quickly marked it with my spray before he changed his mind.
Some of the book matched ...
... Planks from the sister log were even better. I have pictures of them on my Instagram - something I'm trying to use and the dreaded Facebook page which though it has a few things that annoy me does spread the word to interested people.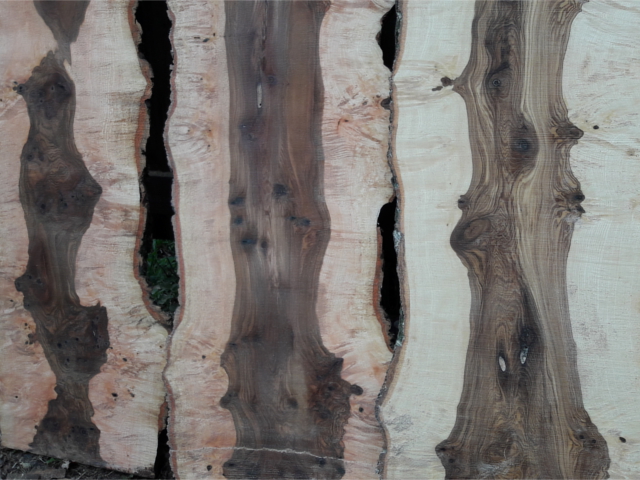 I think you'll agree it will make some stylish coffee tables. Notice how the sap wood is going pink within minutes of being cut - the right hand one being straight off the saw.