It's 20 years this December ...
... since my Dad had to retire from the wood business due to being dead. He'd had a good 15 years playing with Austin Gipsys and dodgy equipment after buying the woods off a bloke in a pub!
He was none too pleased to learn of his impending resignation - he'd just bought a new diesel bandsaw from the USA and a load of Ash and Yew from the farmer up the hill.
Having avoided his wood business ...
... for fear of getting roped in for free labour I was faced with a v steep learning curve having no knowledge of timber or in fact anything related. As I've been flogging wood for longer than him now I'm confident one of these days I'll get the hang of it.
I once told a woman her eyebrows ...
... were painted on too high - she looked suprised! This is of course just a jolly link to introduce a new volunteer helper - Mike.
I was pleasantly surprised at how quickly Mike mastered the bandsaw and became a valuable member of the team. He brings years of woodworking and turning experience but also is a team player fitting in with the established Tuesday & Thursday Daves.
My three helpers all bring a bit of something different skills and interests and rude jokes wise. Mike also brings a knackered shoulder & knee but also a good eye for timber!
Thursday Dave is an all rounder with an engineering background and Tuesday Dave also very versatile is good at fixing. For example one day I presented him with the workshop Hoover -
I think it's married I said ...
What are you on about he asks ... Well, it won't suck any more I inform him. Later that day he had it mended so I sent him to sort out my wife!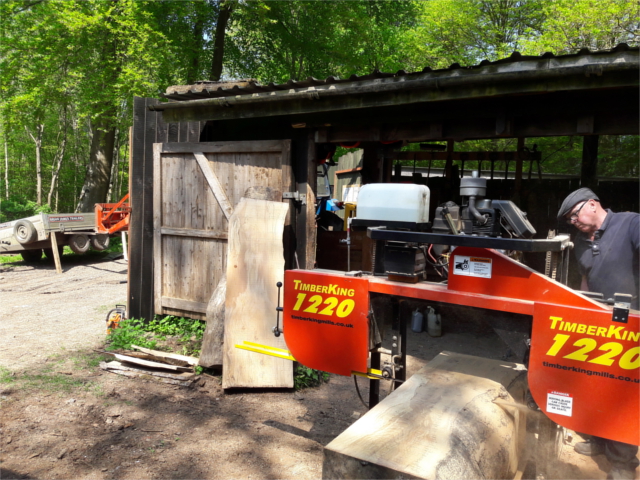 On the day pictured, Mike cuts some Beech whilst in the background Tuesday Dave works on the trailer lights which need more attention than a spoiled child.