Needing some Ash and Field Maple logs moved ...
... from a nearby farm I called Gordon who has moved tons of timber for me over the past 20 years and did jobs for my old man for 20 years before that.
Gordy usually charges more than I would like but a lot less than I fear so I don't haggle. This time he said his son wasn't doing much so he'd come instead. This was fine by me, Phil is just as amiable and capable as his dad.
What Gordy didn't mention was that ...
... Phil charges twice as much. Still, he has a wife, children, pets, three tractors, two diggers and a motorbike and car to support!
The Ash shown on the bottom of the trailer didn't look that interesting but we were pleasantly surprised by some fabulous Olive figuring that is going so make some great book matched tables.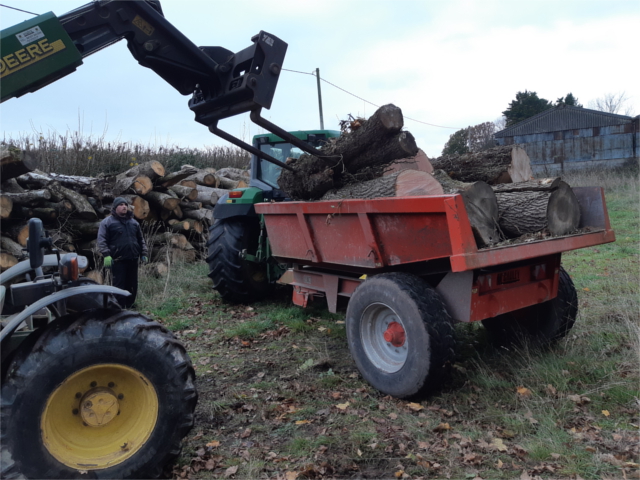 On the plus side Mike in the loader said he'd deliver the next lot for free - now you are talking!
"Won't you kiss me, doctor" ? ...
.... asks a beautiful woman. "No, it would be against my code of ethics," says the doctor. "Please just one kiss," begs the woman. "It's completely out of the question," he goes on.
"I shouldn't even really be having sex with you."
Talking of Sex or Sex Gods ...
... I managed to lure Rob from Cornwall where he now lives to mill the Beech at the top of the blog with promises of anything I could think of in the knowledge that once hooked he'll come and sort anything I need just for the crack rather than cash.
He's got to be one of the best with a chainsaw mill in the country helped by the the first cut system he invented which also adapts for the vertical centre cut shown behind him.
Rob had the Beech in quarters ...
... in a couple of hours and with the winter light fading I whizzed him up the woods to make a large Oak a more handleable size ... first dusting him down to keep the sawdust off the newish trucks seats!
Cheers Rob - come back soon.