With Summer weather we finally ...
... got round to fixing the sheds roofs which have leaked since putting in translucent panels early 2017. Apart from dry weather what we needed was someone light and bendy enough to get up on the roof.
The lucky winner of that prize was the ever helpful Tom the hand built Oak structure specialist. With Thursday Dave the supervisor and Smackers the mover of the sheets from the ground I was able to swan about & make the tea.
Special mention in despatches for Smackers ...
... who apart from talking a lot is a real friend to the firm. In the last year or so he has borrowed a digger from a mate, dug the drains for the posh bog and got a trailer load of crushed concrete for the base of the uprated visitors one and taken the tractor bucket away and welded in steel plates to extend it's life without wanting a reward.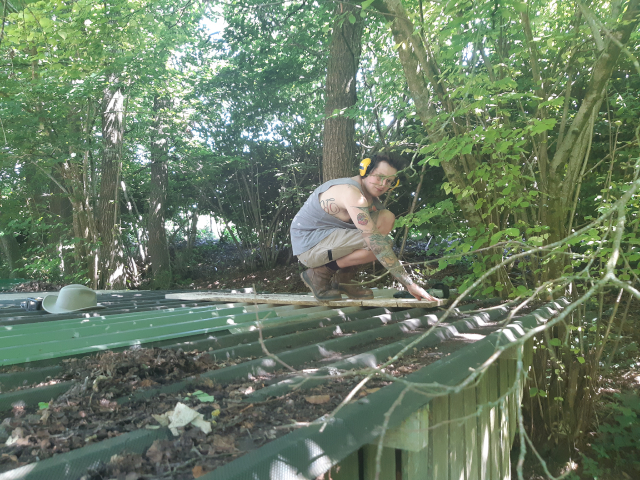 Of course it still leaks elsewhere but Rome wasn't built in a day, it's only been 20 years ... we'll get round to it!
Coming up in the final edition of ...
2020 will be some monster Cedar and possibly some excellent Elm from a new source though this isn't confirmed at the time of writing.
Come and see us whilst the track is dry and I can be bothered to meet you and maybe make you a cup of tea if I think you look wealthy with a poor grip on the cash in your pocket (haven't met one of those yet!)
Regards,

Paul GOULDEN