Steve at Helmdon Sawmill ...
... has had a busy winter - sadly cutting other people's wood. The system is that you have to leave a message on a landline ansaphone in his sharpening shed and if he wants to, he'll ring you back. This works very well - for him & if he has a mobile phone it and it's number is kept well hidden from the likes of me!
I last collected some timber on 15th December and his parting words were " I'll try and cut that Beech for you next week. " Having heard nowt on 15th January I left a happy month anniversary message which elicted no reply.
On the 15th of February ...
... I left another happy anniversary message & added if you need me to send f-ing flowers just let me know. To be fair he rang me that night and said " Bear with me for another couple of weeks. " On 15th March I left a message asking if it was Helmdon timber depository and explained that I had a load that I'd like to remove and did he know if there was a capacity to cut them into slices to aid transport.
This also went unanswered, so it's pretty clear how he rates me and my business in his priority to do list. Obviously in the end he gave up and rang me - he didn't want to lose his almost royal warrant!
Progress on the kids camp ...
... in the middle of the Woods was as ever slow but noticable if you left a time lapse camera on it for months. A donation of a new and quite sexy flag pole was received and installed with the help of a recently retired Police colleague.
If you were the Station officer on certain days like the Queens Birthday your job was to fly the flag. I can't remember ever putting it up, only lowering it at dusk when late turn. (getting my excuse in early here) Chris was confident he knew the correct way up to fly the flag from his previous experience so we holsted & I sent the pic to the flag company who were delighted to point out it was upside down!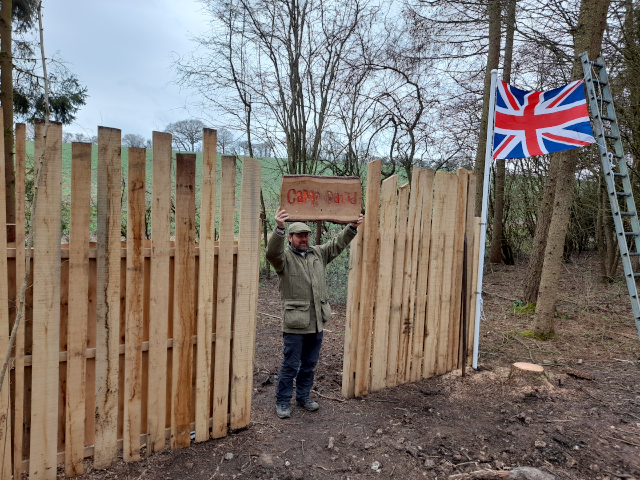 Thursday Dave also pointed out that it ought to be inside and that if we did we could get it a few feet higher so that was swiftly sorted.