First bit of 2022
I thought I would start the year by ...
... chopping my left index finger with my hatchet rather than the intended bit of smoking wood. I can't really recommend it unless you like a big gash and lots of blood.
Mention in despatches to my friend Tom oop the hill who handily was not only home but is a qualified paramedic. He decreed casualty and kindly drove me to the Andover walk in centre. Big shout out to the wonderful staff there who got me stitched up and on my way in under 30 mins.
Apparently Hampshire Walk in Centres ...
... are now appointment only. I tend to like to be spontaneous when I multilate myself with tools so I really can't see how that works. Luckily for me there were no jobs worth rules is rules peeps there and they took pity on an old Mr Plod like me.
When I was a young Policemen we were often in Casualty for one thing or another. A wise old colleague imparted to me " Two things in life are certain one's death and the other is Nurses" .... they were happy days!!
Despite my pain in search of more stock ...
... to keep my insatiable loyal punters wood needs fed I finally got Steve at Helmdon sawmill to cut some of my logs there - some of which had been waiting over a year. The bottom line is that he has more stuff to cut than hours in a day so unimportant sole traders like me don't get a scheduled slot, you have to jump if and when he deigns to chuck one of your logs on.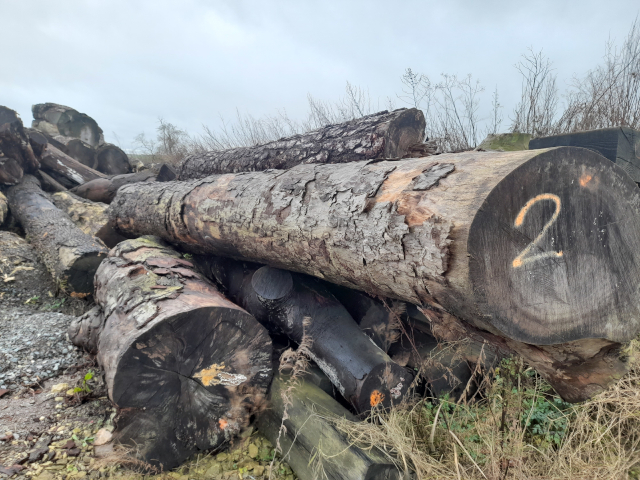 This is a Plane log and it needs to get cut soon ... unfortunately it's not just a matter of being grabbed and chucked on the saw.