Spring into Summer 2023
In the beautiful village of Longparish ...
... lives a charming and helpful bloke called Paul - see not everyone with that name is a cynical old git. Anyway, I've known Paul about 15 years. He's one of those highly clever, qualified geezers who knows everything about trees and plants. Semi retired, he does a bit of tree work and has put Walnut and Apple my way in the past.
You interested in some large Holly he asked. Yes I am I replied - though it's not a big seller the large bit sounded interesting. It's in the dead centre of the village he said - actually he didn't, he said it was in the graveyard and we arranged a meeting.
As you'll see below it was massive for a ...
... a holly tree. Difficult dating Holly but it was old. You won't be suprised to know that taking a lifting machine there wasn't an option. I did bring my little log shifting hand trolley and lugged a couple of bits out. I was reminded of how dense aka ferkin' heavy wet holly is as we just about managed to lift a 2 foot length into the pick up.
I was at this point I remembered that I have had some Holly over 10 years and it isn't popular. The only two people keen were a model maker that used it for boat's decking and a chess piece carver. I said to Paul "I've gone off the idea bud it's too heavy" and walked away - first time I ever have to decent quality and priced round timber.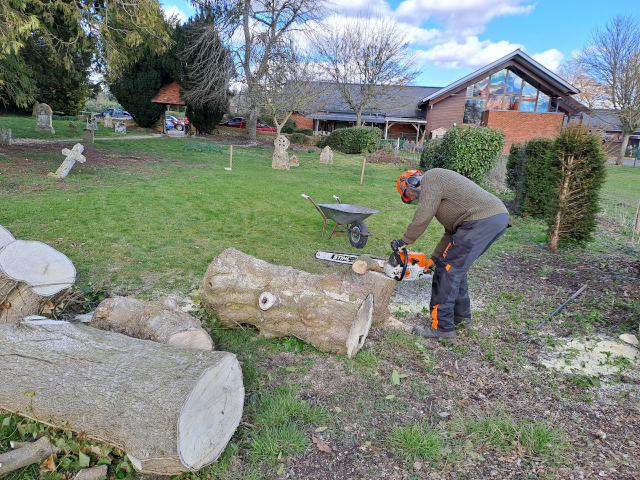 I did alert Archie who lives near and has an alaskan mill and said if he has liftable slabs I may be interested ... I'm clearly getting old but we all know that!